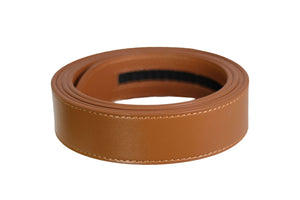 TOP GRAIN British Tan Leather Ratcheting Strap
Where Ultimate Style meets Ultimate Manliness.
Listen, we get it. Your weight fluctuates, so does ours. And normal belts suck. That's why our ratcheting "Perfect Fit, Every Time" belts will hug your waist with a warm embrace no matter what the scale says. 
Tough Apparel Ratchet Belts are designed to be cut down to size on the buckle end. A normal pair of scissors will cut the belt. 
Size: One size that fits up to pant size 60